Throughout 2019, the OneCMS app has taken the industry by storm. As fantastic as it is, we couldn't stop improving it! We are excited to announce the newest feature that is sure to make your audience happy (and your advertisers!); Location Check Ins.
What Are Location Check Ins?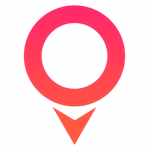 Check Ins are at the center of location-based marketing. A "check in" is a digital record that a person visited a specific place in the real world at a specific time. The person in this case is a user of your station's OneCMS app and the location is one of your advertisers.
When a user of your OneCMS app visits one of your advertisers they can "check in" using the station app and access perks that are only available via your app.  Coupons, deals, and more!
Location Check Ins have huge benefits for you, your audience and your advertisers:
Your Station gets more people using your app and another revenue stream to sell to your advertisers.
Your Audience gets benefits in the form of coupons and deals they could not get outside of your app.
Your Advertisers get another marketing and engagement avenue via your app as well as access to email addresses of those who have checked-in to their brick and mortar locations for follow-up marketing.
App Check Ins Works With Contesting Too!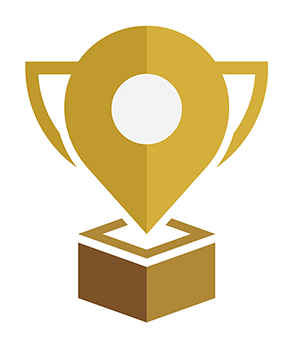 For the ultimate in user engagement,  you can also setup Check In Contests! 
What a unique way to bond your audience and your advertisers! Set up scavenger hunts where users need to check into various locations across the city.  
Each Check In counts as an entry into the contest!
How Do I Create Locations in OneCMS?
Locations are super easy to setup!
Just create a Location in OneCMS with some basic information…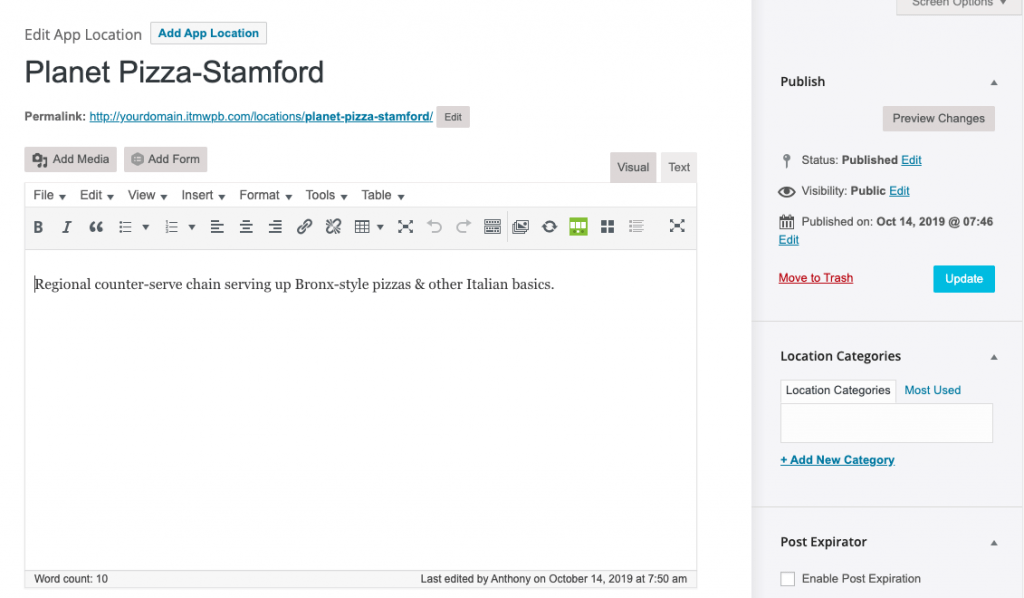 Add in the details regarding it's physical location and how large of a radius from its location you want people to be able to access it's check-in functionality.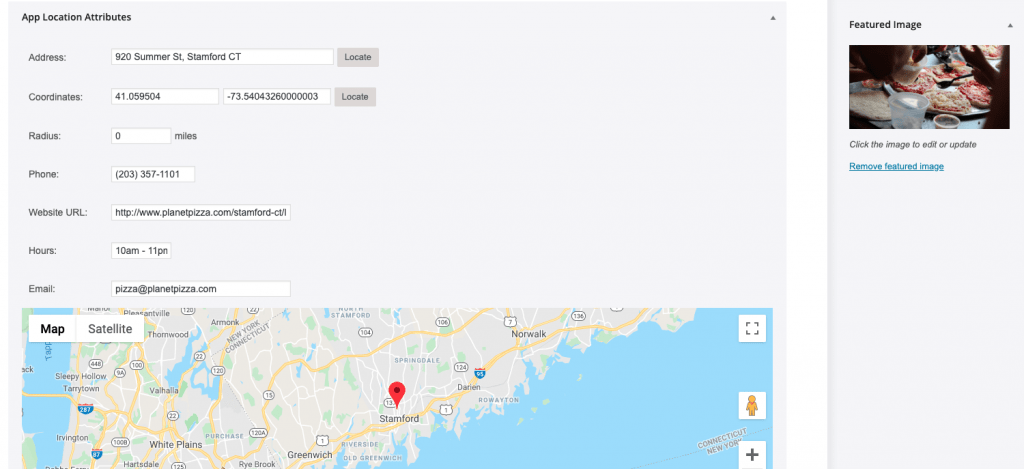 You can also separately create detailed coupons with date rages and QR codes and associate them with a location.

How Does My Audience use Check Ins?
Your audience can access awesome deals when using the Check-In feature on your OneCMS station app.
When they are near or at a location that is part of your Advertiser network, they can click the customizable Check In button right on the homepage of your app.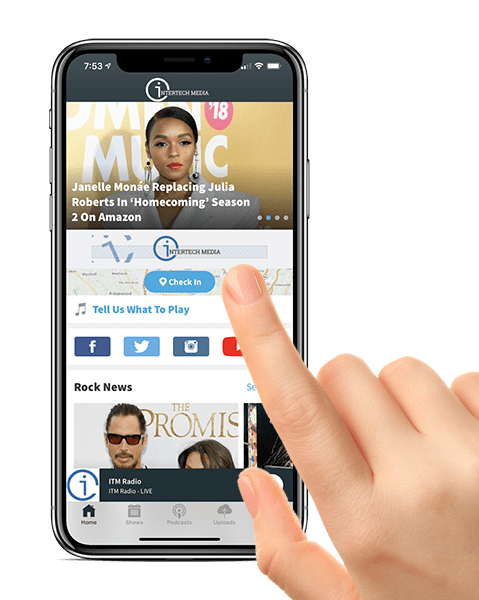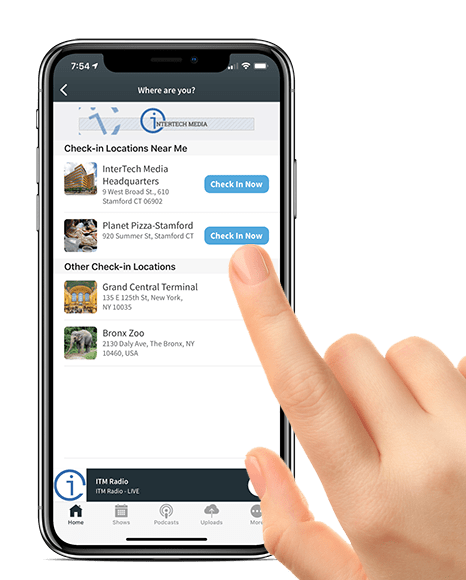 Using the phone's location services to determine the user's exact location, they will see a list of Advertisers that are near them as well as other locations that are close by, but not quite close enough to check in to.
They can click the Check In Now button to access information about the location and find promo codes, coupons and deals!
Once the user has checked in to the location, their email is recorded into the location's database and the time they checked in.
The user now can see all of the information regarding the location and access cool deals and coupons. 
In the screenshot here, you can see a coupon for a Large 3 topping pizza.  The user just clicks the coupon button to access the deal!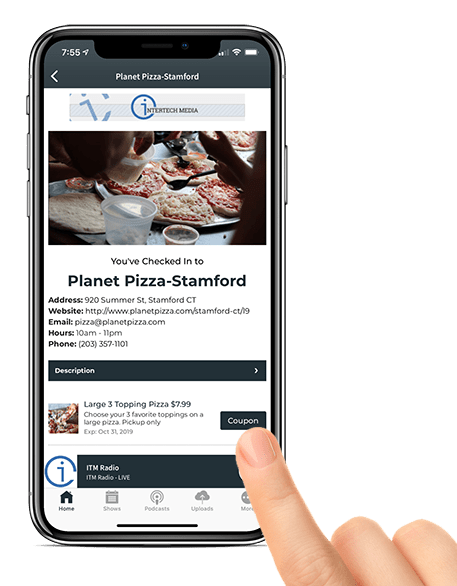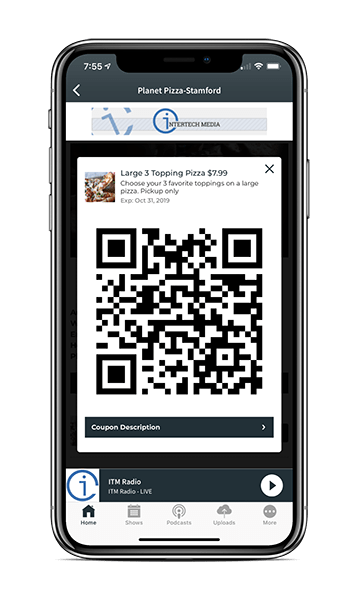 Clicking on the coupon brings up the deal right in the app. 
You have the option of uploading a QR code so the advertiser can scan the user's phone right at the POS.
Coupons will only display in the app between the active dates of the coupon, so you don't need to manually remove coupons from an advertiser.
Build Lists for Your Advertisers!
Every time someone checks in to a Location, their email address and the date & time they checked in is recorded and linked to that Location.
Strengthen your relationship with your advertisers! Download the list and share with your advertiser so they can continuously market to these prime lists.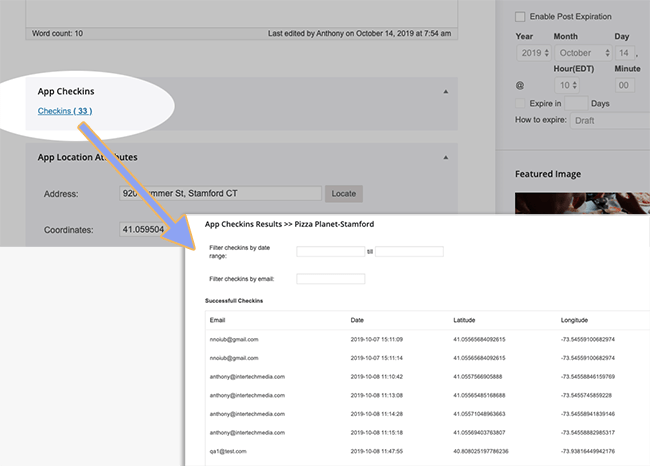 Be Where Your Audience Is...EVERYWHERE
InterTech Media's Apps are not only powerful, but affordable.
There's an app for any budget and we'd love to show it off to you!