The newest addition to OneCMS is created specifically to make finding and sharing content with your audience faster, easier, and dare I say….fun? 
Introducing the new Content Discovery Dashboard! It is live in OneCMS today and is a 100% free feature for all of our partners!
What is the Content Discovery Dashboard?
The Content Discovery Dashboard is a source of information, a content creation machine, and so much more. The dashboard is a convenient way to find out what's going on within topics that are important to your audience and makes publishing relevant content to your brand's social accounts or blog easy. 
Source Content Your Audience Loves
The Content Discovery Dashboard is a content creator's dream come true! Using your personal dashboard, you can find local, global, topical, or just about any type of stories that are updated right to the minute.
Share Content or Write About it with One Click!
But that's not all!  Once you find a story that you think will pique your audience's interest, you can share it right to your linked OneCMS Facebook or Twitter accounts or embed it right into a blog post with one click!
Let's show you what I'm talking about…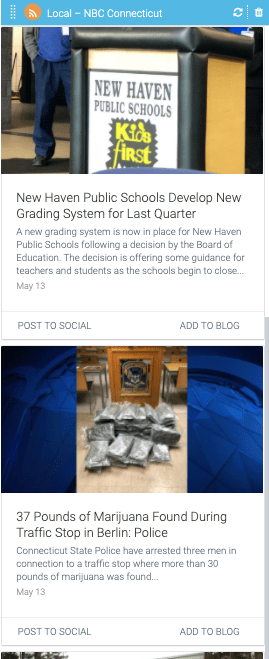 With just a couple of clicks you can find content from all over the world.  Just search for a topic, location, or pretty much anything and we'll search the world for content feeds that match your interest.  
Select a feed, preview it and add it to your desktop and you'll be following up to date news like a pro!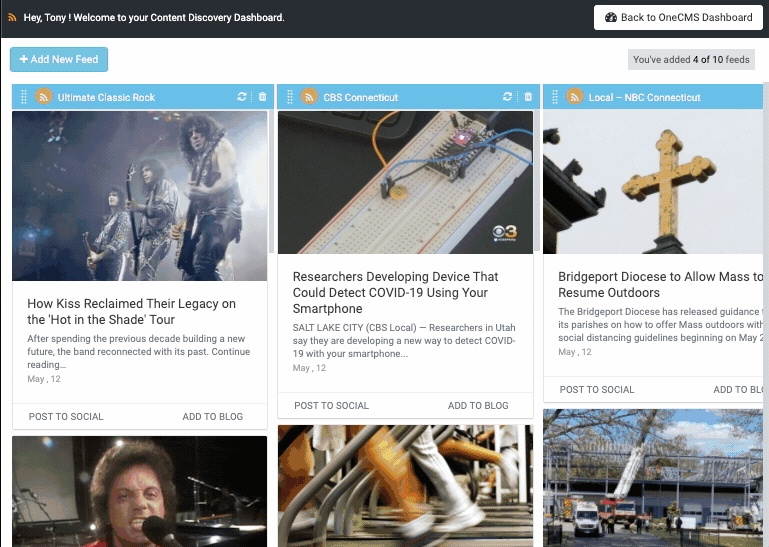 What good is having up to the minute news at your fingertips if you can't do anything with it?  Content is only good as the people it reaches and we make sure everything you find can be shared with your entire audience. Whether you want it published to your social accounts, your website, and your app, we'll help you get it everywhere.
Each story  you see on your Content Discovery Dashboard can be shared to your linked Facebook and Twitter accounts via the powerful Social Posting Dashboard just by clicking Post to Social.  Then you can choose which social accounts to share the story to, write an awesome status message and even schedule it to post at a later date or time!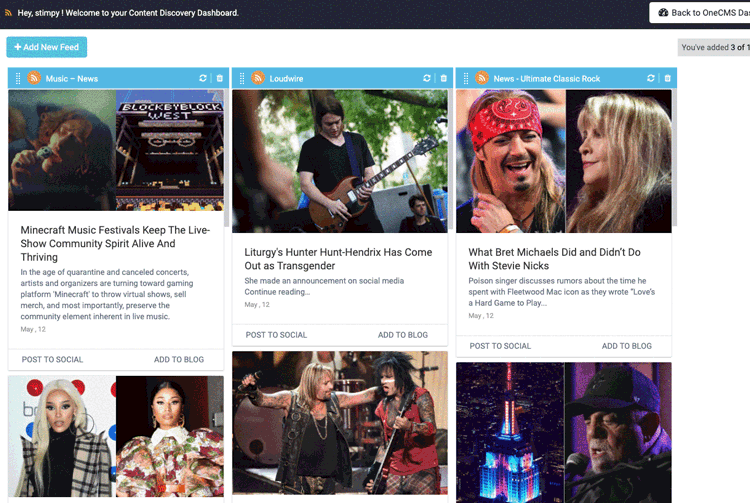 ...or Embed in a Blog Post
If you want to write a blog post around the content you find on the Discovery Dashboard, click the Add to Blog link and we'll set you up with a new blog post with the story automatically embedded within it!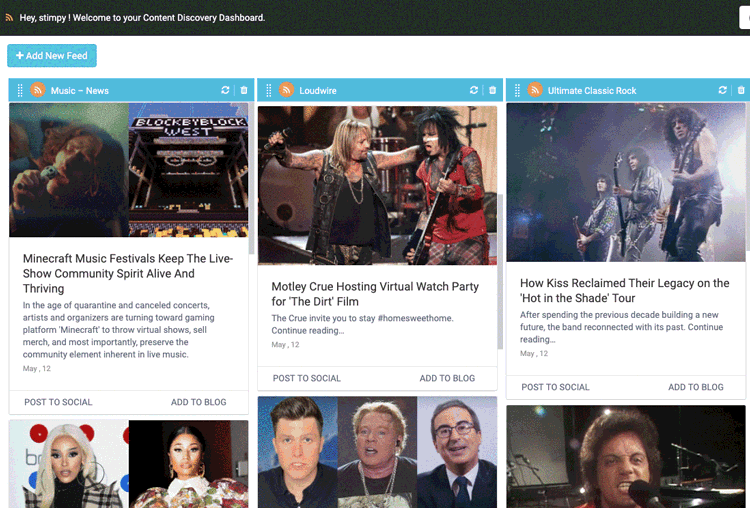 More Features of the OneCMS Content Discovery Dashboard
Have certain feeds that are more important to you than others?
Drag and Drop your feed columns into any order you want.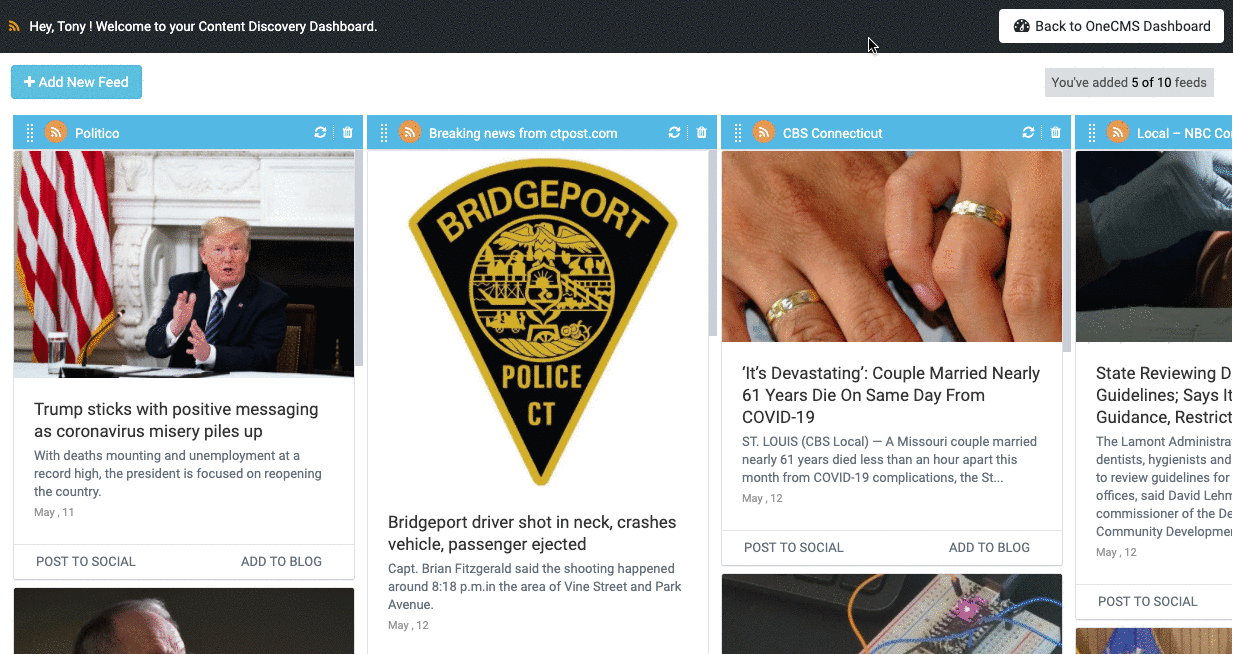 Get the entire story behind the story! 
By clicking on a story in a feed, you can see the source article from the feed provider.  After all, you don't want to share something to your audience without getting the details.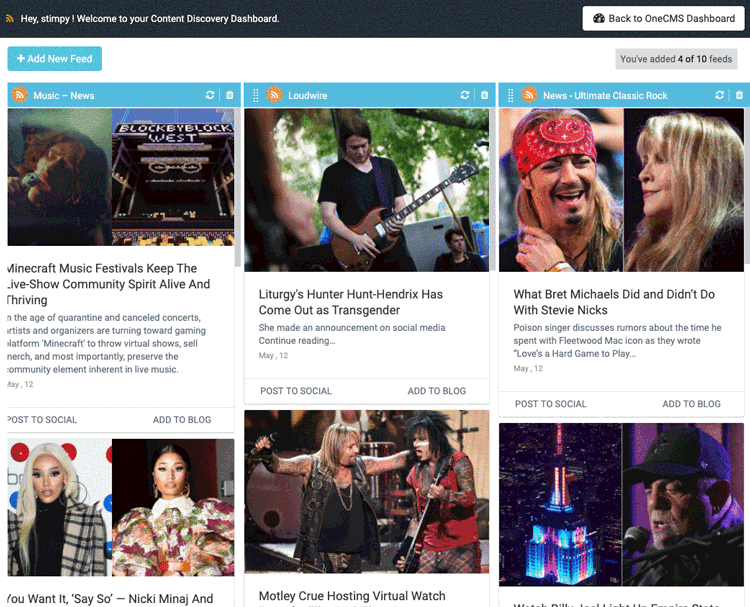 Managing Your Digital World with ONE Login
The new Content Discovery Dashboard brings full circle the promise of OneCMS being the ONE place where you can manage your entire digital brand from one login. What are you waiting for?
Use the Most Powerful CMS for Broadcast
Don't settle for less. We've got the tools that were designed for radio by people that know radio. Awesome designs and powerful infrastructure make for fast loading, awesome looking sites.