OneCMS gives you one login to do pretty much everything for your brand: Publish stories, events, galleries, audio and video…Send emails, SMS and push notifications to your audience…Manage your apps, voice skills and website.
But we've added a new feature that will increase engagement with your brand to an entirely new level: Social Posting from OneCMS. That's right, with the new Social Posting Dashboard that we rolled out this morning, you can now post to all of your brand's Twitter and Facebook accounts at once!
You can publish status updates with links and images to your Facebook and Twitter accounts. You can even schedule your social posts days or weeks in advance to sync up with your promos! It's like Zocle or Hootsuite, but all in OneCMS!
You can pick as many accounts to send a post to: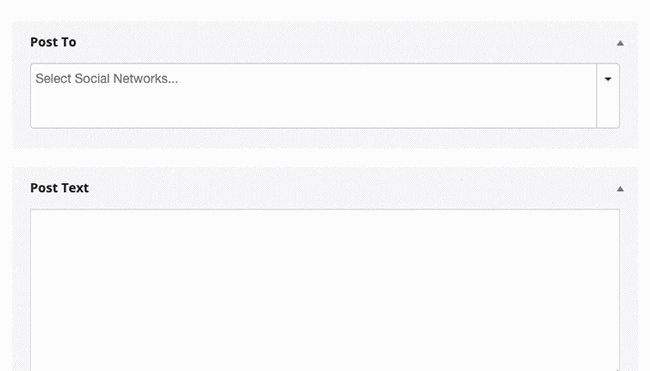 Add your status update / tweet: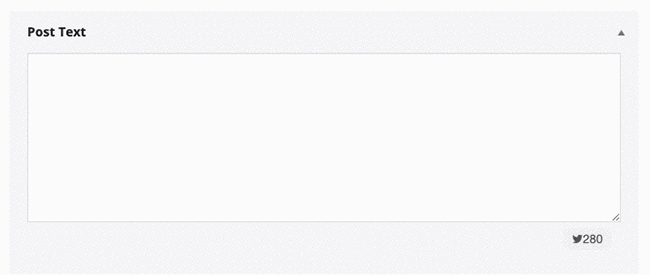 Add an image…or ten! (Facebook posts can include up to 10 images, posts that include Twitter are limited to 4)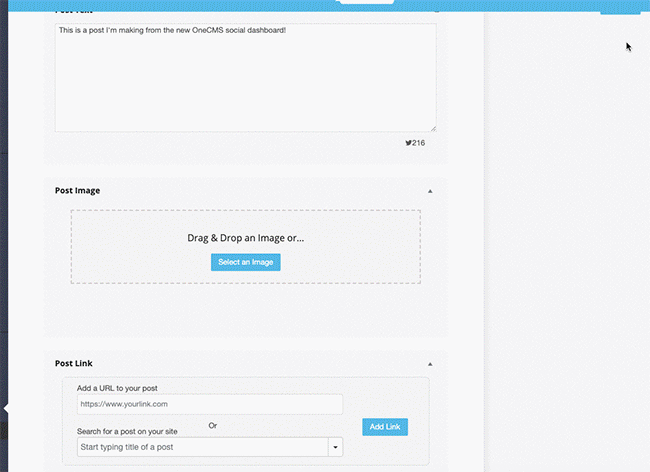 Embed a link you find anywhere on the internet….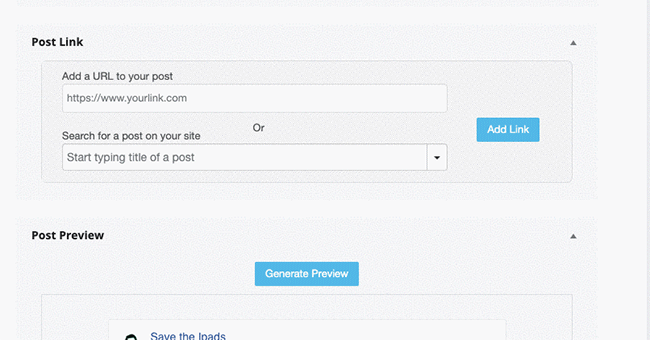 Or find a story you published on your website: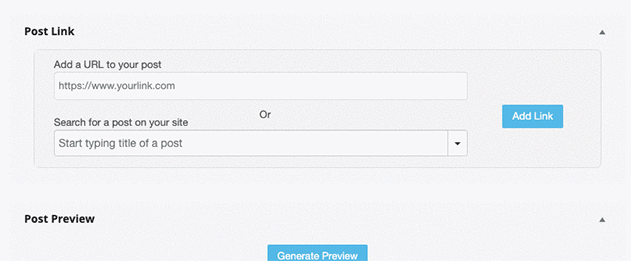 You can even generate a preview of what the post will look like on Facebook and Twitter BEFORE you publish it.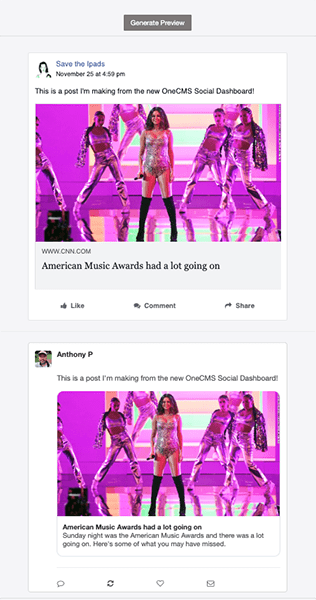 Manage Your Social Posts for Today, Next Week and More!
Just like any type of content in OneCMS, you can  schedule posts to publish at a later date and time and even delete posts from Facebook and Twitter…all from the OneCMS interface.
Check out all these social posts I've scheduled for the following week without ever leaving OneCMS!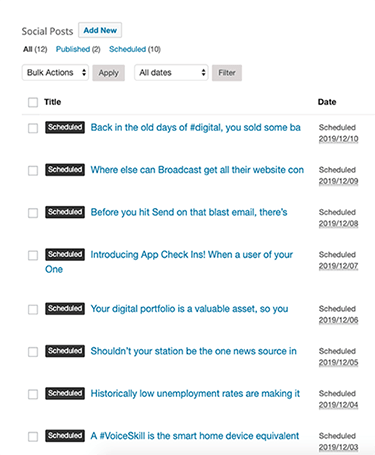 Ready to start posting to your Facebook and Twitter accounts from the same interface you manage everything else? It is already enabled in your OneCMS dashboard.  Check out a short tutorial on using the new Social Posting Dashboard in OneCMS  (you'll need to be logged into OneCMS to access).
Don't pay extra for features you get for free just by using OneCMS. We are always adding more features and value to the only login you'll need for your brand: OneCMS!  Use the new Social Posting Dashboard today!
Social Creates Exceptional Engagement With Your Audience
The most effective (and free) way to get your brand clicking through to your website, your advertisers and consuming your content is by sharing it on your social channels. Create loyal fans by managing your social accounts in same the dashboard you manage the rest of your brand's digital: OneCMS.