No other digital provider offers as many apps for broadcast as OneCMS.  Our apps all come equipped with a variety of amazing features, all of which contribute to a spectacular user experience for your audience.
…and now there's even more to love about OneCMS Apps.
Earlier this year, we added two new features that partners have been asking for. Live Chat and Live Video Streaming.
Engage with your audience via a real-time chat right within your station's app.
People love feeling included. The more included they feel, the more likely they are to engage with your brand and extend those streaming minutes!
And live chat is the perfect way to make your audience feel included in your station's activities and events. 
Perhaps you'd like to chat during your morning show to interact with listeners, or when you have a special guest in the studio, the engagement possibilities are endless!
Not in the mood to chat? You have the ability to turn live chat on or off right from the OneCMS App Manager.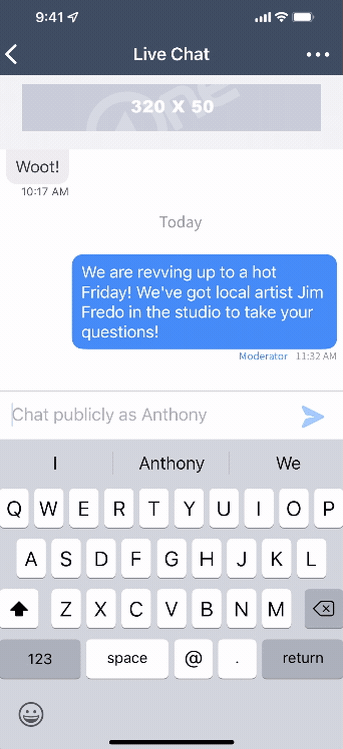 There are so many engagement opportunities you can have with your audience using Live Chat.
Song Requests
Submit Questions and comments during a show
Have a Q&A with a personality or special guest
Trivia competitions 
App-chat only contests
…and more!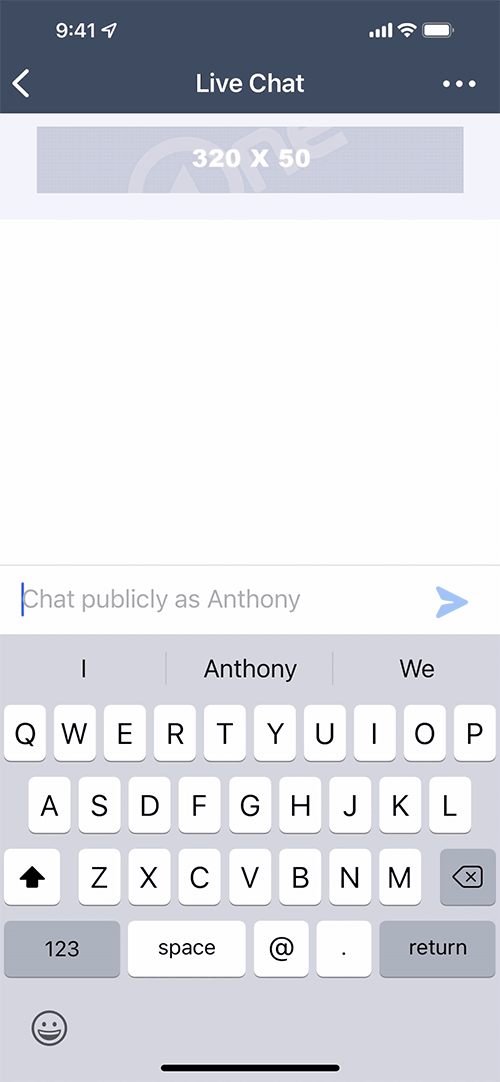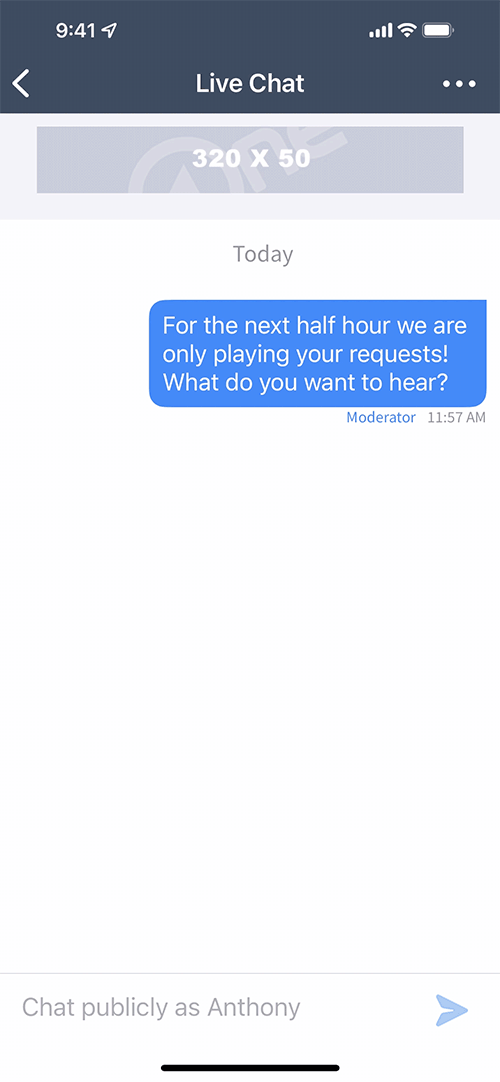 We made moderating the chat really easy! You can do it straight from the app itself when you are logged in as a staff member.
Staff members can:
Respond to comments and engage back with chatters 

Delete comments he/she deems inappropriate

Ban chatters from the live chat, and are able to allow them back at any point.

Change their chat username
Your audience can:
Respond to comments and engage back with chatters 

Block chats from other users they do not want to interact with (they can unblock at any time)
Change their chat username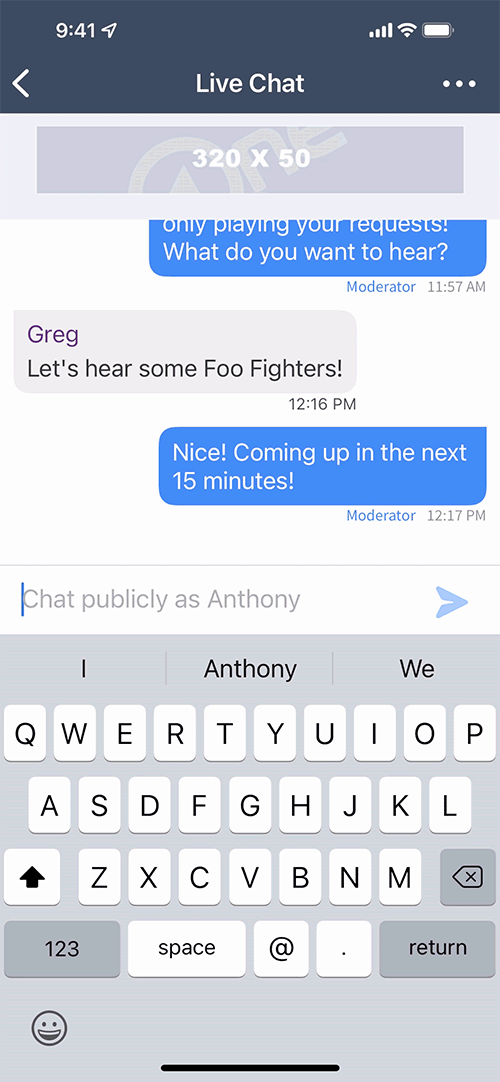 Block users that are spamming or posting derogatory comments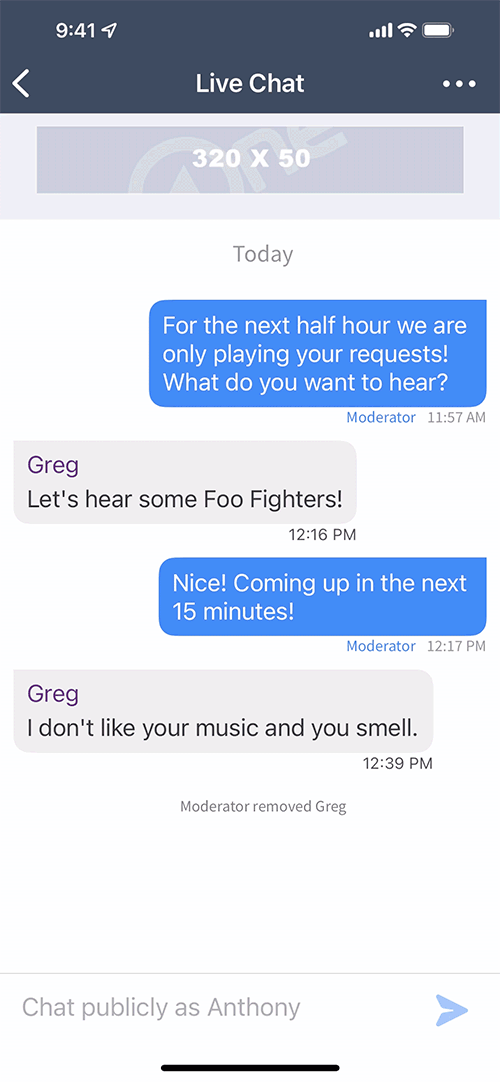 Delete comments for all users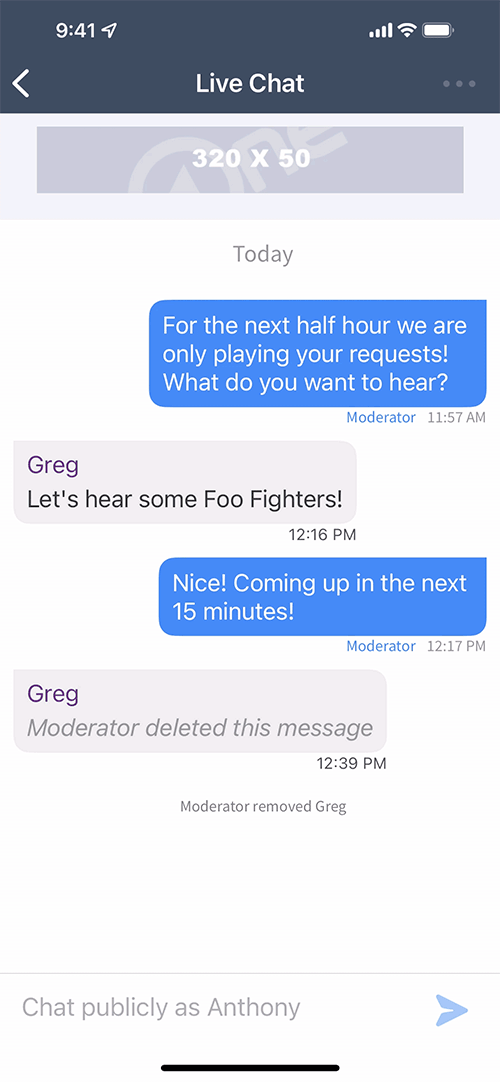 Unblock users if the need arises
Do you live stream from the studio or from events (and if you don't,, WHY NOT)? Well, now those live streams can be featured front and center within your app's home screen.
With support for Youtube Live or Twitch live streams, showcasing your live video streams is easier than ever.
And the functionality is SMART too!  The live video stream module will only display on your home screen when there is a live stream (don't worry, your previous live streams will be accessible from a carousel further down the home screen).
And, we are aware that some of your audience may not have the best bandwidth availability, so once they scroll out of the live stream viewable area, we cut the stream as not to incur any unintended bandwidth charges (or to slow them down in any way).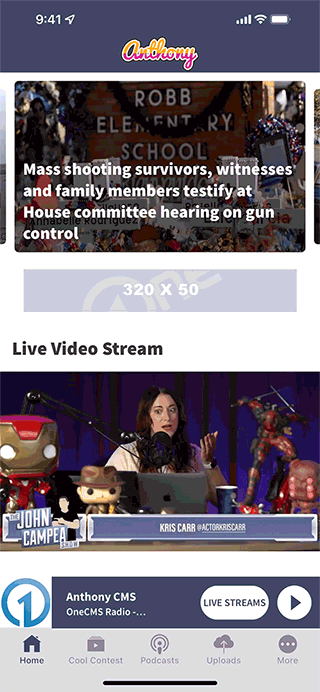 Note how the video stream stops when the user scrolls out of the viewable area to save bandwidth.
Already have a OneCMS app?  These features will be added to your app in the coming weeks in a feature update. 
And if you don't have a OneCMS app, it's time you realized just how important having a feature-rich app is to your audience and advertisers.
The #1 Rated Apps for Broadcast: OneCMS
OneCMS Apps have the most features your audience will love.
There's an app for any budget and we'd love to show it off to you!